A Comprehensive Architectural Transformation: Case Study about a Residence in Streatham, London, Ground Floor Extension and Front Glazed Porch, Designed by Stella Kordista, RIBA and ARB Architect
Estimated Reading Time: 9 minutes.
Video Duration: 5 minutes
Why This is Must-read: Explore the meticulous architectural prowess of Stella Kordista in revamping a London residence, offering valuable insights and tangible solutions to modern home extension challenges.
Table of Contents
1. Introduction to the Architect and Project
Dive into a transformative journey with Stella Kordista, a seasoned ARB Registered Architect and RIBA Chartered Member, who remarkably converted a challenging space into a modern, family-friendly home in Streatham, London. Stella, championing over 22 years of expertise, approaches architectural challenges with a fusion of aesthetic and function, resulting in over 1,500 (one thousand five hundred) successful Loft Conversions & Extensions projects in the Greater London Area with fully satisfied clients.
Stella Kordista Architecture Workshop services span across Residential Projects, Loft Conversions & Extensions, Refurbishments, Planning, 3D Modelling & Rendering, 3D Animation, 3D Animation – 360° Panorama, and 3D Animation – 360° Interactive Panorama, each offering uniquely crafted solutions that resonate with both aesthetic and functional appeal.
2. London Home Extension Challenges of a Growing Family – Before: A Detailed Breakdown
A Blooming Family with Evolving Needs: The dynamics of a growing family demanded space enhancement and fluidity in the living area.
Dated and Inefficient Layout: The previous setup, marked by a secluded living area on the first floor and isolated rooms, was misaligned with modern living requirements.
A Restrictive Entrance: The existing entryway was both confining and inadequately lit.
Limited and Disjointed Kitchen Space: Insufficient space and light in the kitchen hampered functionality and the absence of a dedicated dining area disrupted flow.
The Imperative of a Home Office: The absence of a home office/study area in the previous setup was a tangible void.
Preserving Garden Space: With a limited garden area, the challenge was to expand without engulfing this outdoor space.
Navigating Regulatory Constraints: Adherence to Permitted Development regulations was paramount.
Maintaining Aesthetic Consistency: Ensuring the new extension harmoniously complements the original structure was crucial.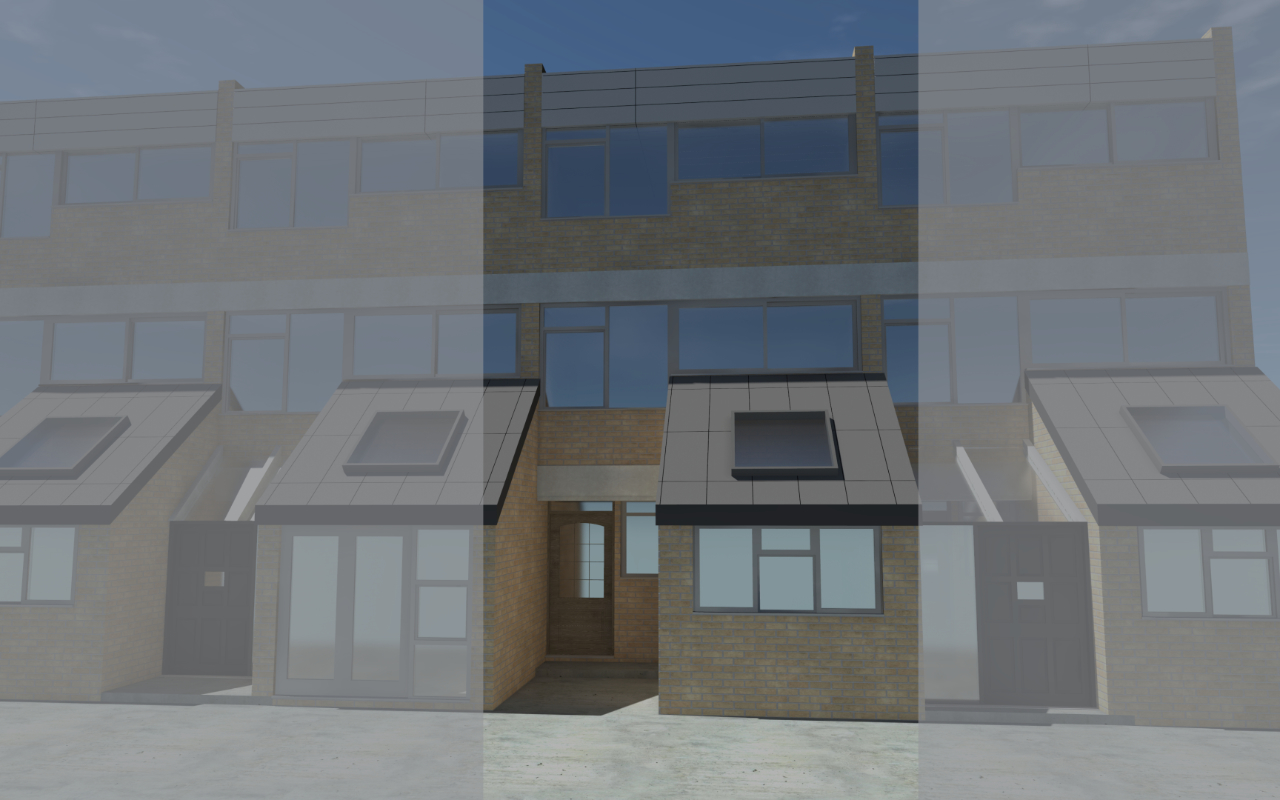 3. Architectural Solutions – After: A Strategic Approach
Accommodating Spatial Needs: The family's requirements were seamlessly integrated into the design, culminating in a space that evolves with them.
Expanding Living Quarters: The transition from 3 to 4 bedrooms addressed the growing familial needs.
Refining Layout Dynamics: By adopting an open-plan design, the living, dining, and kitchen areas were cohesively united alongside an integrated home office/study.
Amplifying Light and Space: Incorporating large by-folding doors, a flat roof light, and an open layout massively enhanced natural light infiltration and spatial perception.
Brightening Entryways: A front glazed porch added aesthetic appeal and created a light, airy entrance.
Garden Preservation: Strategic design ensured most of the garden space was retained.
Indoor-Outdoor Fusion: The garden and patio were artfully integrated into the extension to create a seamless indoor-outdoor experience.
Modernisation: Updated, contemporary design elements were woven into the fabric of the residence.
Enhanced Energy Efficiency: Modern insulation techniques were adopted to boost energy efficiency.
Value Amplification: The property witnessed a 35% ascent in value after the enhancement.
4. Video Case Study Insights – A Visual Walkthrough
Embark on a visual journey through this transformative project, unveiling the meticulous design, planning, and execution of a home extension in Streatham, London, designed by Stella Kordista. From the initial challenges to the final, rejuvenated spaces, the video provides a detailed visualisation of the project, complemented by Stella's expert insights and strategic architectural approaches, notably through the lens of 3D Animation and 360° Interactive Panorama.
Video Timestamps:
00:00:00 Welcome to this comprehensive case study spotlighting a transformative residential project in Streatham, London. The architectural design behind this ground floor extension and front glazed porch originates from Stella Kordista, an ARB Registered Architect and RIBA Chartered Member, boasting over 22 years in the architectural realm.
00:00:04 Stella Kordista operates her architecture workshop from West Sussex, expertly navigating projects across South East England and casting a particular focus on the unique architectural needs and styles of the Greater London area.
00:00:11 Operating under the motto "concept to creation – perfect form & function," Stella Kordista Architecture Workshop offers a wide array of architectural services, including Residential Projects, Loft Conversions and Extensions, Refurbishments, Planning, 3D Modelling & Rendering, 3D Animation, 3D Animation – 360o Panorama, 3D Animation – 360 o Interactive Panorama, and Commercial Projects, aiming to fuse aesthetic and function in every creation.
00:00:17 This case study is invaluable for those contemplating a home extension in London or the Greater London Area, offering a window into practical, aesthetic, and functional transformation.
00:00:23 3D Animation provides an insightful glimpse into the finalised extension, allowing viewers to visualise and traverse through the renewed spaces within the Streatham residence.
00:00:33 Beyond conventional visualisation, the 3D Animation – 360° Panorama service by Stella Kordista Architecture Workshop allows potential clients to fully immerse themselves within the available space and better understand spatial allocations and integrations.
00:00:58 Elevating visualisation to a highly interactive level, the 3D Animation – 360° Interactive Panorama allows individuals to explore available spaces, zooming and navigating to appreciate detailed aspects at their own pace.
00:01:34 Showcasing a demonstrated example of a Ground Floor Extension via this case study (with before/existing and after/proposed – Front Elevation and Rear Elevation) enlightens viewers on transformation possibilities, from existing structures to proposed rejuvenations.
00:02:10 An exploration of architectural plans designed meticulously by Stella Kordista unravels, detailing proposed floor plans, sections, and elevations which served as the blueprint for the transformation of this Streatham residence.
00:02:46 Challenges are inevitable in architectural projects, from accommodating a growing family and modernising outdated interiors to ensuring extensions comply with and complement original structures. All tackled methodically and innovatively by Stella Kordista Architecture Workshop.
00:03:09 Solutions encompass a total accommodation of the family's evolving needs, introducing an additional bedroom, optimising layout flow, ensuring ample light with by-folding doors, and integrating modern insulation for enhanced energy efficiency, ultimately elevating the property value by 35%.
00:03:34 The video culminates with a walk through the ground floor interiors via 3D Modelling & Rendering, offering tangible insights into the spatial transformations and aesthetic upgrades accomplished in the residence.
00:04:20 Appreciation for this insight into architectural transformation is welcomed through likes, shares, and subscriptions as we explore and document further architectural projects.
00:04:31 With Stella Kordista at the helm, over 1,500 (One Thousand Five Hundred) successful architectural plans for Loft Conversions and Extensions in the Greater London Area have been realised, always adhering to a commitment to form and function.
00:04:42 Your journey towards residential transformation can commence with Stella Kordista. For quotes and further insights, visit www.stellakordista.com
5. Questions and Answers: Engaging with Architectural Excellence
How Is the Aesthetic and Functional Fusion Ensured in Home Extensions?
Using 22 years of architectural expertise, a seamless blend of aesthetics and functionality is ensured by tailoring designs meticulously crafted to meet individual client needs. Leveraging the extensive services, including 3D Modelling & Rendering and 3D Animation – 360° Panorama, enables clients to visualise and immerse themselves into the proposed spaces, ensuring alignment with their vision and functional requirements.
How Are Modern Living Requirements Addressed in the Proposed Designs?
Modern living requirements are meticulously addressed by transforming outdated and inefficient layouts into vibrant, cohesive spaces. The strategic approaches include implementing open-plan designs that unite living, dining, and kitchen areas, enhancing natural light with large by-folding doors and flat roof lights, and integrating modern design elements to elevate the living space's aesthetic and utility.
How Is the Challenge of Preserving Outdoor Spaces Approached in Extensions?
Preserving outdoor spaces, such as gardens, is achieved through strategic design, which carefully integrates indoor and outdoor environments. By creating extensions that seamlessly blend with existing outdoor spaces, Stella ensures that expansions are harmoniously unified with garden areas, providing an indoor-outdoor living experience while retaining most of the outdoor space.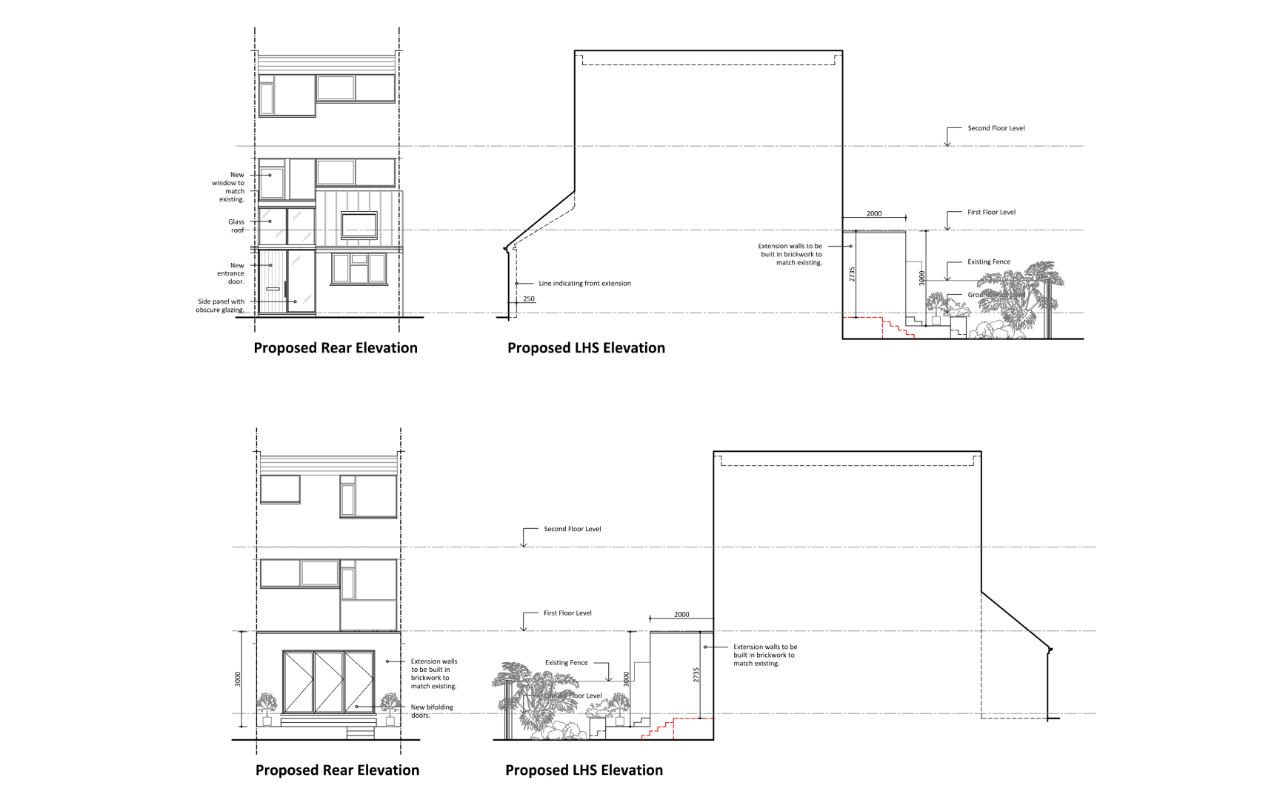 How is Technology Utilized in Visualizing Proposed Architectural Solutions?
Utilising advanced technologies like 3D Animation and 360° Interactive Panorama can provide clients with an immersive visualisation of proposed architectural solutions. These technologies allow clients to explore and engage with the proposed spaces, understanding spatial allocations and aesthetic integrations, ensuring the final build resonates with their envisioned expectations.
What Impact Can a Thoughtful Architectural Redesign Have on Property Value?
Thoughtful architectural redesign, like the one executed in the Streatham residence, can significantly amplify property value. Through strategic enhancements like spatial reconfigurations, modern design implementations, and integrated indoor-outdoor living spaces, the property witnessed a 35% ascent in value, showcasing the tangible impact of meticulous architectural redesign.
How Are Regulatory Constraints Navigated in Extension Projects?
Stella Kordista expertly navigates through regulatory constraints, such as Permitted Development regulations, by ensuring that all designs adhere to local zoning and building codes. Her wealth of experience managing over 1,500 projects in the Greater London Area equips her with the insights to balance innovative design with regulatory compliance, ensuring the project's smooth, lawful progression.
What Does the Journey Towards Architectural Transformation with Stella Kordista Involve?
The journey with Stella Kordista involves a comprehensive approach from concept to creation. Clients are immersed in a collaborative process where their needs are meticulously understood, and solutions are crafted through detailed architectural plans, visualised through advanced 3D technologies, ensuring every facet of the design is attuned to their aspirations and functional requirements.
6. The Journey Ahead
Dive deeper and allow this case study to guide you, providing valuable, actionable insights as you contemplate your architectural journey. Navigate through a world where challenges are metamorphosed into innovative solutions with Stella Kordista, ensuring every corner carved and sculpted space resonates with your dream home.
Take your first step towards architectural excellence. Reach out to Stella Kordista at info@stellakordista.com.